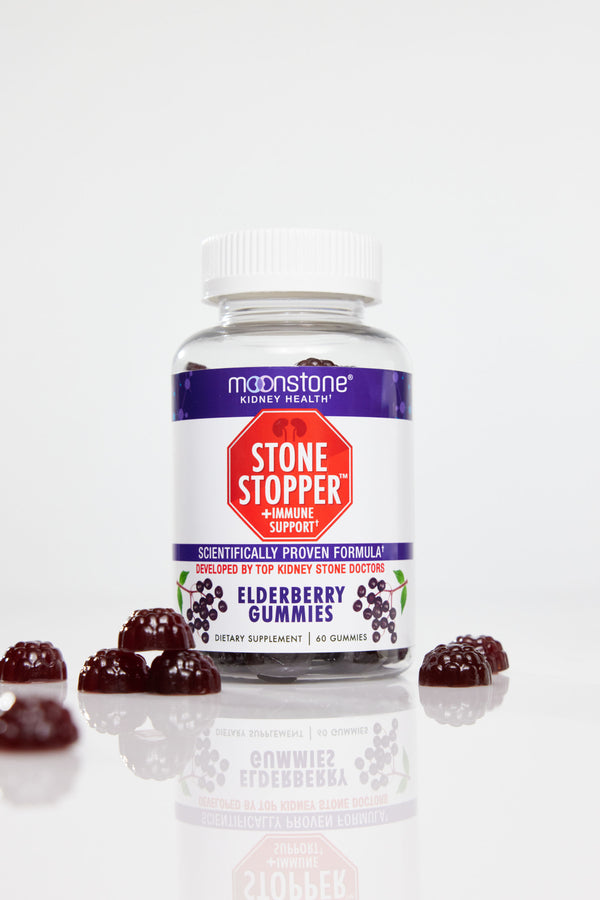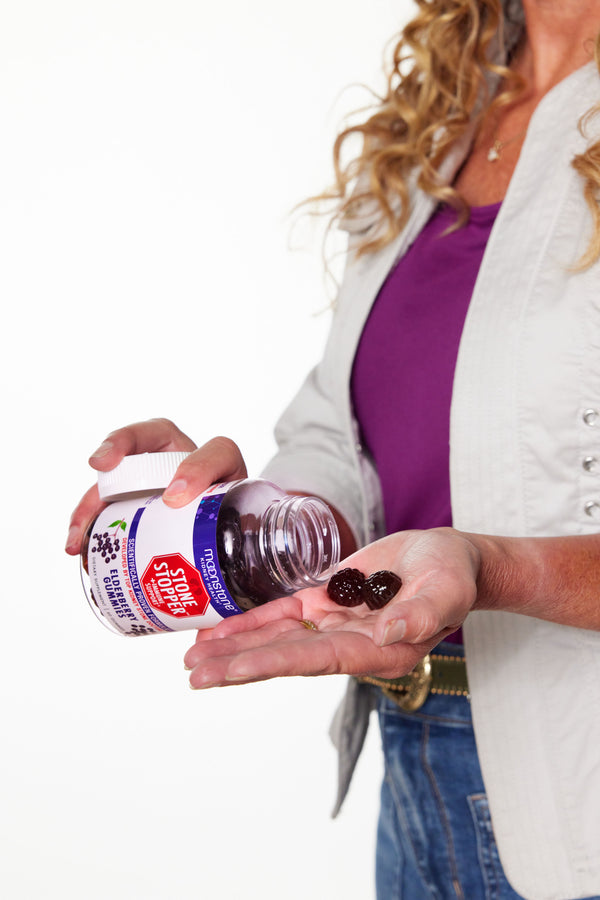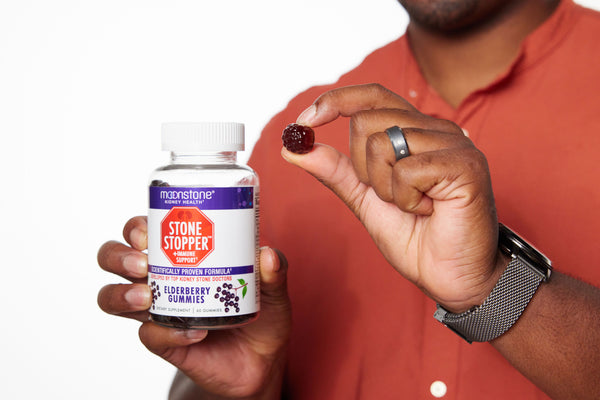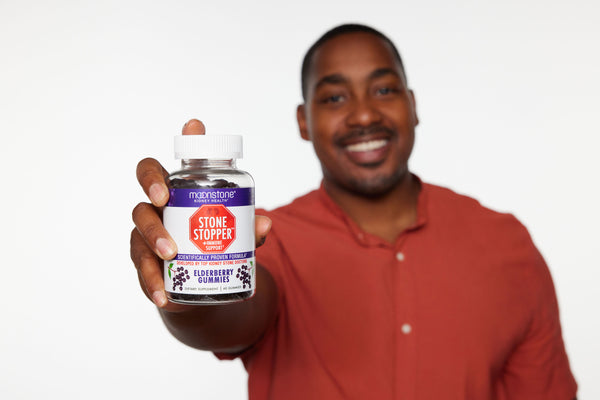 Moonstone Stone Stopper Elderberry Gummies
KIDNEY SUPPORT & STONE PREVENTION: The active citrates aid in keeping kidneys healthy and increase urine citrate and urine pH.

BENEFICIAL INGREDIENTS: A scientifically proven formula rich in alkali citrate, provides daily support for kidney health by helping manage urine pH and citrate levels. Excellent Source of Vitamin B6.

IMMUNE SUPPORT: Contains Elderberry for immunity - Elderberry is packed with antioxidants and vitamins that help to boost your immune system. Tame inflammation, lessen stress, and increase heart health.

SERVING SIZE: 1 Serving is equivalent to 9 mEq Alkali Citrate. Take 2 Gummies, 3 times daily (or more based on preference of sugar intake).
*Buy More and Save discount not applicable on subscriptions, promotion periods or pre-bundled listings. Discount automatically applied at checkout.
*Promotional Periods on products do not reflect continuing monthly subscription pricing. Customers will be charged regular pricing on subscriptions.
What people are saying about Moonstone ...
Verified Buyer

Kidney Stone History

Occasional

How did you hear about Moonstone?

Doctor

2 weeks ago

Kidney Stone History

Occasional

How did you hear about Moonstone?

Doctor

5 months clear of kidney stones

Moonstone Elderberry Gummies made a drastic difference in my kidney stones ! I had an Ultrasound which showed 4 large stones, 2 in each kidney and one 6 mm stone that I had recently passed which was sitting in the middle of my bladder ! A cat scan was ordered ! I started immediately taking Moonstone Gummies as well as increasing my water intake with lemon juice for the next 10days ! The cat scan showed no stones at all and my kidney stone surgery was cancelled ! Five months later I continue to take Moonstone Gummies 2 to 3 times a day as well as well as drinking my lemon water daily ! My Doctor recommended Moonstone to me stating that he had lots of patients that take Moonstone products who have had great results !

Verified Buyer

Kidney Stone History

Occasional

How did you hear about Moonstone?

Doctor

1 month ago

Kidney Stone History

Occasional

How did you hear about Moonstone?

Doctor

Excellent Product in Addition to the Drink

This is a nice alternative to the drink option because it is easy to store and access. The product is very tasty and arrived fresh. The packaging keep it that way. When I haven't taken the time to make the drink, I will eat a few of these and be covered. I keep both at my home and find myself eating the gummies now mostly.

Verified Buyer

Kidney Stone History

Occasional

How did you hear about Moonstone?

Google

1 month ago

Kidney Stone History

Occasional

How did you hear about Moonstone?

Google

YUMMIE GUMMIES

Love them. Taste good and do the job.

Verified Buyer

Kidney Stone History

Occasional

How did you hear about Moonstone?

Social Media

3 months ago

Kidney Stone History

Occasional

How did you hear about Moonstone?

Social Media
Reviews Loaded
Reviews Added