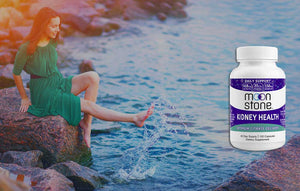 FIND JOY IN
THE JOURNEY
WITHOUT
KIDNEY
STONES
Moonstone is a convenient, delicious way to keep kidney stones out of the healthy path you choose.
Dedicated to improving healthy kidney function on a daily basis, Moonstone's patented formula rich in alkali citrate helps prevent the formation of kidney stones by increasing urine citate and urine pH levels.
Vegan, No Added Sugar, Gluten Free, Caffeine Free, and Kosher
Choose from three delicious flavors now for 25% off your order with promo code STOPSTONES before December 31.
Kidney stone prevention is in your reach