CITRATE FOR KIDNEY STONES: WHY IS CITRATE IMPORTANT?
Alkali citrate helps prevent kidney stones.  
Anyone who's suffered from a kidney stone knows that they don't ever want another one. Alkali citrate for kidney stones is key to preventing this painful condition, although there are some pervasive myths about how it works and where to find it.
Not all citrates are the same. While many claim that drinking alkali citrate-rich lemon juice and water will help prevent stones, the citrate that you can get from citric acid (such as lemon juice, citrus fruit, etc.) actually isn't enough to prevent the formation of kidney stones. In fact, you'd have to drink several quarts of lemonade per day to get the right amount of citrus citrate to be preventive. Moreover, citrus fruits are relatively low in pH and don't support healthy kidney chemistry. Alkali citrate, however, is the powerful component that is known to prevent kidney stone formation along with other key nutrients and ingredients.
HOW IT WORKS
The science of alkali citrate & Moonstone. 
Alkali citrate helps prevent kidney stone formation by reducing the ability of calcium in the urine to bind with oxalate. Specifically formulated by kidney stone specialists—including nephrologists and urologists—Moonstone contains clinically significant amounts of alkali citrate that increases urine citrate and urine pH in the body. This works because increased urine citrate helps prevent calcium stones, while increased urine pH helps dissolve and prevent uric acid stones and cystine stones. *1 Although citrate from lemon juice and citrus beverages may raise urine citrate, these drinks are missing the other key nutrients that help prevent stone formation. For citrate to enter the urine and act to prevent kidney stones, it must be ingested accompanied by sodium, potassium, or magnesium—and this is exactly what Moonstone provides. Ultimately, lemon juice and other beverages cannot realistically supply what the body needs to prevent kidney stones. Moonstone's higher net citrate content provides more "net base", also known as alkali, which is essential to preventing kidney stone formation. **2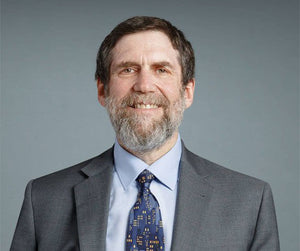 CREATED BY KIDNEY SPECIALISTS
Painful stones can affect anyone.
Nephrologist and internationally recognized kidney stone expert David Goldfarb MD—a founder of Moonstone—can relate to the unbearable pain of passing kidney stones, because he's had three of his own. Dr. Goldfarb had his first stone in his late 20s, and he remembers it as if it were yesterday. "I was walking down the street, and I was suddenly struck by this tremendous pain. It felt like a large chef's knife had been stuck in my back," Dr. Goldfarb says. "And I was doubled over, soaked through my clothes sweating." A dramatic day in the ER followed. But once the stone passed, Dr. Goldfarb says that he—like most people—forgot about it. Very few people take steps to prevent a repeat attack, but most kidney stone sufferers will form another stone within 5-10 years. 
"Most people who pass relatively small stones in the emergency room—as I did—typically don't follow a healthy diet and don't drink enough water," Dr. Goldfarb says. "And that's why kidney stones are so prevalent." After his second attack, Dr. Goldfarb, who is now the director of a leading kidney stone clinic, began researching how to prevent stone formation using a natural approach. He wanted to find a preventive solution without relying on distasteful horse-sized prescription pills, a restrictive diet that's difficult for people to follow, or drinking gallons of water or lemonade per day. With an expert team of doctors and health care professionals coming together, Moonstone was formulated.
A PREVENTIVE SOLUTION FOR KIDNEY STONES
The benefits of Moonstone.
Moonstone contains enough citrate (30 mEq alkali citrate) to immediately improve urinary pH in the body. It also contains other key ingredients that are known to prevent kidney stones, including potassium, sodium, and magnesium citrate salts. Other benefits of Moonstone include:
High in magnesium
High in vitamin B6 
Low in calories 
Low in sodium 
Low in potassium
Phosphorus-free 
Wheat-free
Gluten-free
Soy-free
Fat-free
Kosher certified
Contains no added sugar
Excellent source of hydration & flavor
Moonstone is available in a ready-to-mix powder beverage in a variety of delicious flavors that are far superior to the unpalatable taste of the potassium citrate pills prescribed by doctors. Just mix the powder with 16 ounces of carbonated or non-carbonated water, stir well, and enjoy the delicious and effective ingredients known to prevent kidney stones.