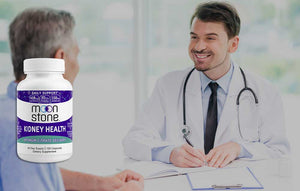 DOCTOR-CREATED
TO PREVENT
KIDNEY STONES
Moonstone is a convenient, delicious way to add kidney health to your daily routine.
Specifically formulated by kidney stone experts—including nephrologists and urologists Moonstone is the first patented formula to help maintain daily support for kidney health, stopping kidney stones before they form.
No Added Sugar, Gluten Free, Caffeine Free, Vegan, and Kosher
Choose from three delicious flavors now for 25% off your order with promo code STOPSTONES before December 31.
A Moonstone a day keeps the stones away.