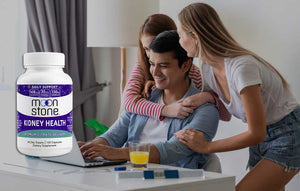 STOP KIDNEY
STONES IN
1 EASY STEP
Moonstone is a convenient, delicious way to avoid kidney stones so you can focus on the important things.
• Helps prevent the formation of kidney stones before they start
• Patented doctor-created formula for simple, daily kidney health
• Vegan, No Added Sugar, Gluten Free, Caffeine Free, and Kosher
Choose from three delicious flavors now for 25% off your order with promo code STOPSTONES before December 31.
The once-daily drink mix that makes kidney health easy for on-the-go
people like you.